SLS Hotel
Las Vegas
Las Vegas, NV

from: $57
70% below Expedia
8/16*

Venetian Resort Hotel & Casino

Las Vegas, NV

from: $96
46% below Expedia
8/23*

Mark
Hotel
New York, NY

from: $407
44% below Expedia
9/1*

Surrey
Hotel
New York, NY

from: $293
38% below Expedia
8/26*

Hotel Vintage, A Kimpton Hotel

Seattle, Washington

from: $275
36% below Expedia
9/5*

Alexis Hotel, A Kimpton Hotel
Seattle, Washington

from: $275
32% below Expedia
8/22*
*Rate is for date shown based on double occupancy. Comparison is for identical room category. Prices and availability are valid at time of publication and are subject to change.

Click below to find exclusive rates for 100's of destinations worldwide.
Remember...Travel Insurance is an important component to include with your travel plans.

According to the US Travel Insurance Association, one in six Americans has had their travel affected by medical conditions, natural disasters, or mechanical or travel carrier problems.
Good News - most exclusive coverage plans provide protection for these types of problems. And for less than 5% of the trip cost, you can be covered for:

Trip Cancellation

Trip Interruption

Trip Delay/Missed Connection

Medical Expense

Medical Evacuation/Repatriation

Lost Baggage/Personal Effects

Baggage Delay

24-Hour AD&D

Common Carrier AD&D

Trip Assistance Services (included)
VacationWired.com Exclusives
15% off the best available rates!




Set on a striking rocky point on the ultra-chic island of Anguilla, the Viceroy is arguably the number one rated hotel on an island renowned for opulent accommodations! Called "jaw dropping" by Conde Nast Traveler, this modern take on a Mediterranean style retreat blurs the line between SoHo social center and castaway Caribbean retreat. A lovely resort for couples and families alike, Viceroy Anguilla is sure to indulge every traveler. Bragging rights included!

Welcome to Tumbling River Ranch, an award-winning Colorado dude ranch with a 60 year reputation for fine service and one of the top resort ranches in the Rockies. With a superb location nestled in a secluded valley high in the Rocky Mountains just two hours from Denver, Tumbling River Ranch is a truly special place for kids, parents and grandparents to enjoy a one-of-a-kind family vacation at a Colorado ranch resort.

Candace Sneberger, President of VacationWired.com, says that it is the ultimate vacation for families; she has been raving about her family's stay; "We are still recounting the stories of great rides through the mountains, the riding contests in the outdoor arena, the excellent meals and the square dancing! The staff made it extra special!"




As one of the most intimate and elegant hideaways on the island of Bermuda, the Elbow Beach Resort is a boutique enclave of privileged luxury, style and service. The resort covers 50 acres of beautiful landscape and overlooks one of the most wonderful pink sandy beaches in Bermuda. Dating back to 1908, generations of savvy travelers return time and again to the Elbow Beach Hotel for her style, intimate size and beach front location.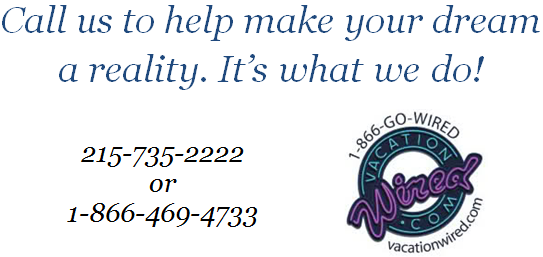 Get added benefits when you book a Dedicated Vacation Flight as part of a Vacation Package to Mexico, the Caribbean and Costa Rica, in comfort and with convenience.
Available from 20 gateway cities nationwide.